HHV Green Future
| | |
| --- | --- |
| Our response to climate emergency in the Ham Hill villages is being coordinated by the HHV Green futures group. We are working to achieve carbon zero by 2030 as the stated objective of the Church of England. | |
First a group of interested parties has been invited to guide our efforts. With their input we are compiling a policy and a five-year action plan.
A template churchyard plan can be found here (work in progress)
| | |
| --- | --- |
| | Secondly, all church councils were encouraged to complete a comprehensive audit designed by A Rocha [eco-church]. This encompasses worship and teaching, buildings and lands management, community engagement and lifestyle. In October 2021 all 7 churches had completed an initial audit. Bronze awards for progress was achieved by six churches, whilst Chiselborough achieved a silver awards. |
This autumn we will:
establish the carbon footprint of every village church
switch to renewable electricity in all churches and church buildings incl vicarages
begin the eco-church journey and celebrate initial awards
linkup with stakeholders from parish and district councils and schools
enable a three year churchyard management plan with e.g. conducting a species audit, installing a water source, native fruiting trees and bushes, wild flower planting and wildlife shelters in all graveyards.
communicate and encourage individual lifestyle changes amongst parishioners
In 2022 we plan to progress all 7 churches towards a Silver award, with improvements in every sector and ongoing encouragement in the wider community. In 2025, once no further progress towards carbon zero is possible, carbon offsetting will be introduced for all churches to ensure that we achieve carbon zero on schedule.
Members have participated in the Wilder churches initiative – a collaboration between the diocese of bath and wells and Somerset wildlife Trust.
Interested to get involved – please contact David Mangles (david@northdownfarm.co.uk).
Useful Resources links:
A Rocha – eco church and Wild Christian – here
Somerset Wildlife Trust – wilder Churches initiative – here
Caring for God's acre – here
Bath and Wells Environment group (Sources of funding for environmental improvements) – here
Field Studies Centre – source of identification charts – here
RSPB for birdboxes etc – here
Woodland Trust – for young native trees and shrubs – here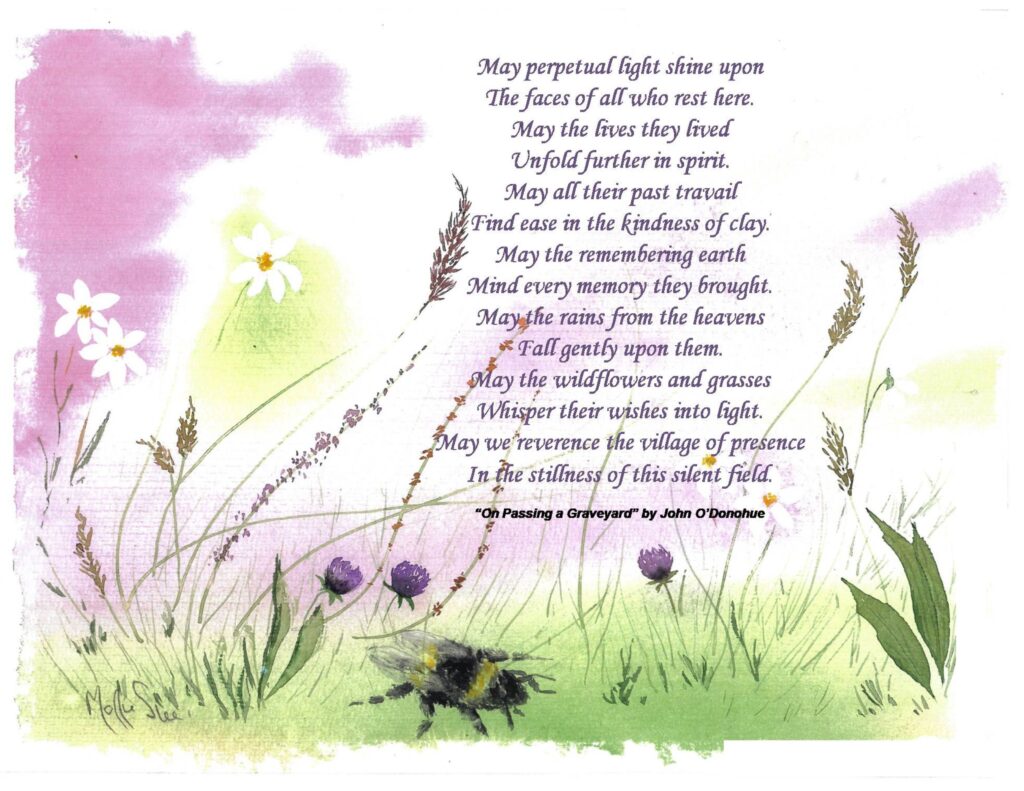 Local artist Molly Slee offered this wildlife painting
for our churchyard in Odcombe